Shared with – Studytonight.com
Accidental deletion of photos from a Windows laptop or PC is the most common cause of data loss. If you encounter sudden deletion of pictures from your laptop, try to find the exact cause of the issue and then apply proper methods to retrieve deleted photos. Here, in this article, we will discuss some best ways to retrieve deleted photos from the laptop.
Actually, lost or deleted pictures on your laptop first go to the Recycle Bin where you can restore them easily. But if the deleted picture is not present in the Recycle Bin, then it may have been permanently deleted from your device. Don't worry, this article will also help you know how to recover permanently deleted photos without any hassle!
Can Deleted Pictures be Recovered on Laptop?
The obvious answer to this question is Yes! You can easily restore deleted pictures on your laptop only if it is not permanently deleted from it. Usually, when any file is deleted on a Windows device, it disappears keeping the space it was occupying to be available for new files. In such a situation, you can recover deleted files only if the space was not overwritten by new files.
Before you apply methods to recover deleted photos, try to find the exact reasons for the data loss issues. Some common reasons for photo loss are:
Accidental deletion
Storage device failure
Internal or external storage corruption
Virus or malware attacks
File system errors, etc.
How do I Restore Deleted Pictures From Laptop Easily?
Follow the instructions mentioned in this part of the blog to know how to retrieve deleted photos from the laptop with or without any backup:
Method 01: Recover Deleted Pictures From Recycle Bin
As mentioned above, when any file is normally deleted, it moves to the Recycle Bin and stays there for some particular days, i.e., about 30 days. You can recover deleted pictures from the Recycle Bin by applying the below-given steps:
Double-click on the Recycle Bin folder located on your Desktop to open it.
Locate and right-click on the deleted pictures that you need to restore and select the Restore option.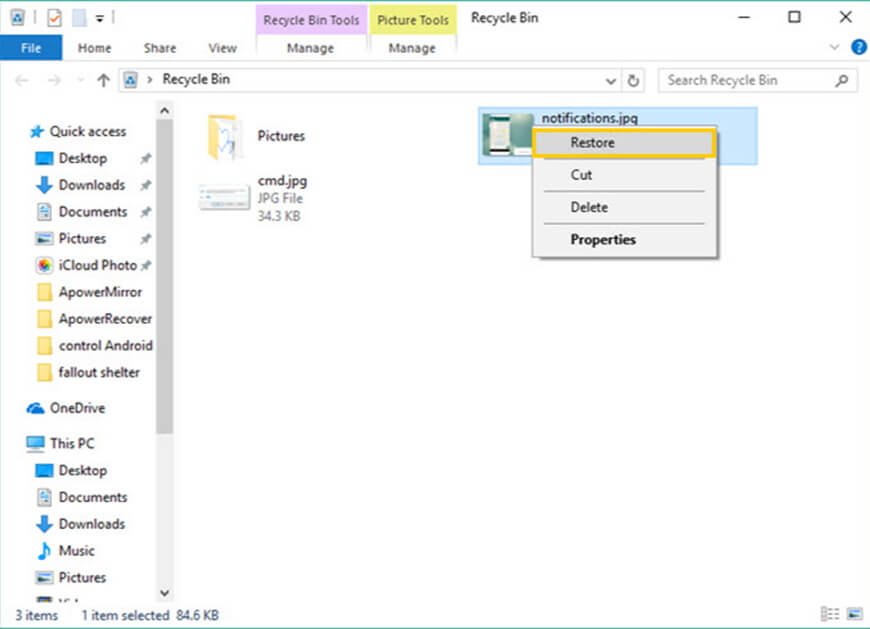 Once you are done with the above steps, the selected pictures will be saved to their original location.
Method 02: Recover Deleted Photos from Laptop Using Windows Backup
If you have created a backup of your pictures before deletion, you can use it to recover deleted photos from the backup files. All you have to do is:
Type CP in the search box of your desktop and launch Control Panel.
Now, go to "System and Maintenance", and then select the "Backup and Restore (Windows 7)" option.
Click "Restore my Files" and then tap the "Browse for files" button to select the backup file that you need to restore.
At last, select the location where you need to save the recoverable files and wait till the process gets completed.
Method 03: Recover Deleted Pictures from Previous Versions
Another way to retrieve deleted photos from the laptop is by using the Windows File History backup feature. This option automatically creates copies of your files, including documents, music, photos, videos, and another folder after the particular interval that you can use if issues like data loss occur. All you need to do is to enable the File History feature on your device.
To know how to retrieve deleted photos using the File History backup, you need to:
Launch and right-click on the folder where your deleted photos were earlier stored.
Now, select the "Restore previous versions" option from the navigation menu.
Browse and select the version of the file you need to recover and click the "Restore" button.
Method 04: Use Photo Recovery Tool to Recover Deleted Photos
In case the above recovery methods fail to recover your deleted pictures, you can use a professional photo recovery software to get your deleted pictures back. Stellar Photo Recovery is the best way to recover your deleted pictures without any backup in any circumstances. Some amazing features that make this tool best for your deleted photo recovery are:
The software is compatible with both Windows and macOS devices.
It can recover pictures deleted due to any reason, including accidental deletion, malware, system crash, etc.
The software supports the recovery of images of several formats, such as jpg, jpeg, png and many more photo formats.
It can recover your deleted pictures in a few simple clicks; no need to have the technical expertise to retrieve deleted photos using this tool.
3 Simple Steps to Recover Deleted Pictures Using Stellar Photo Recovery Tool:
Download, install and launch the Stellar Photo Recovery tool in your system. Now, select the storage location from where you need to restore deleted pictures and click the Scan button.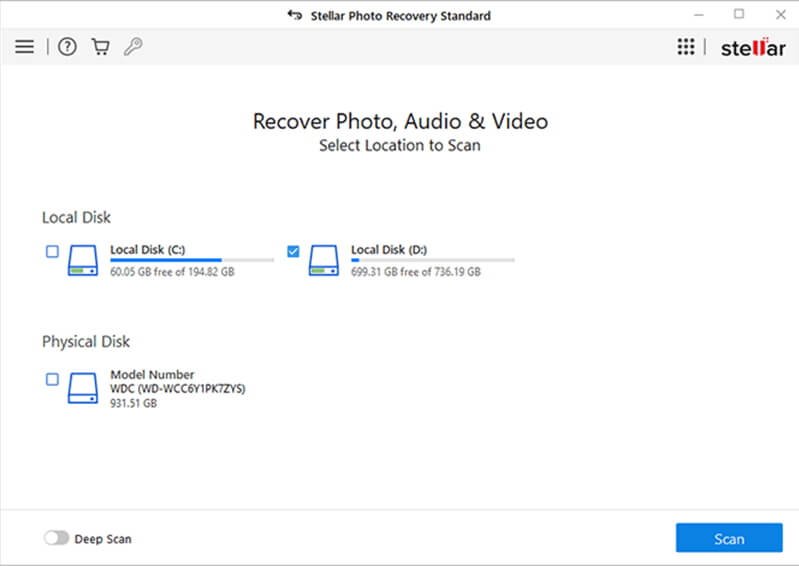 Once the scanning process gets completed, you will get the 'Scanning Completed Successfully!' message on your screen.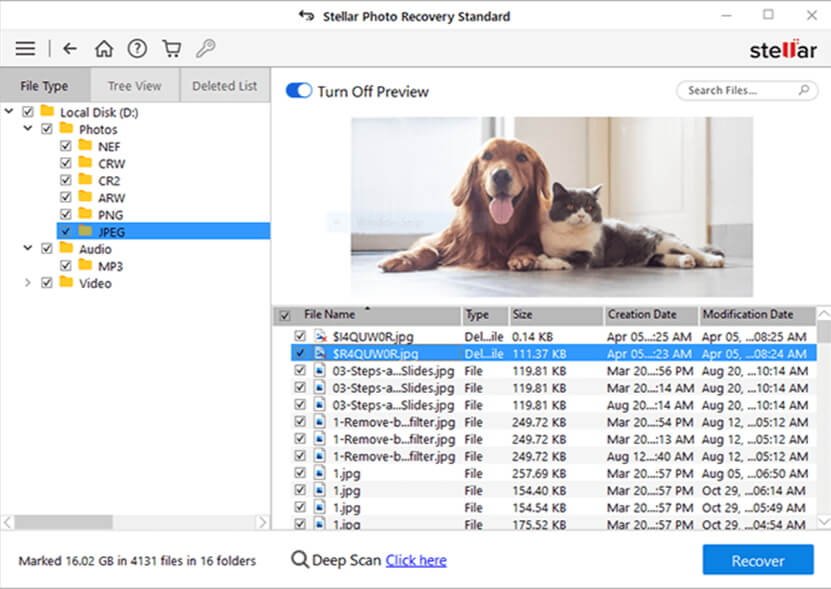 After that, preview the recoverable photos and select the pictures you need to recover, and click the Recover button to save them at the desired storage location.
Wrapping Up
Hope, the above best ways to retrieve deleted photos from your laptop help you to get your deleted pictures back. The most effective way to handle such data loss issues is by creating a proper backup of your important pictures using Windows backup utilities, such as 'Backup and Restore' and 'Restore from Previous versions'. However, if you don't have any backup, you can use the Stellar Photo Recovery tool to restore even permanently deleted pictures from any desktop, laptop, and storage device.