Are you looking for a trustworthy mechanic or a professional car service center? Keeping your car looking brand new can be frustrating. We understand that it can be overwhelming with so many options to choose from out there. In this blog post, we have prepared a guide that will help you determine who will take great care of your car.
7 Tips for Choosing the Best Mechanic or Auto Repair Shop
So how can you tell which mechanics or shops are reliable for your automobile? You've probably watched many car advertisements but are still in doubt. There are a lot of shops that will promote their beautiful facilities and big shops. But how can you tell which one you should trust? Let's find out below.
Shops with Certified and Professional Mechanics
Always check if your chosen auto repair shop is certified by the ASE– The National Institute For Automotive Service Excellence. It is the largest governing body for mechanics in America, and most shops hire ASE-certified mechanics. To become certified, technicians must pass one or more of ASE's 52 tests. To remain ASE-Certified, the technician must be retested every five years.
If your car is a specific brand, look for a mechanic working on those cars. For example, aside from an ASE, you may want to find a mechanic with a BMW step certification if you own a BMW. It will help ensure your mechanic is qualified to work on your vehicle.
2. Clean, Organized Workspaces
You can tell a lot about a place by how it looks. Visit the shop and see if it's clean and well-maintained. The appearance and condition of a mechanic's shop reflect their services. You may not get the best possible service if the shop seems untidy, tiny, and messy.
It's hard to keep an auto shop squeaky clean – so a few oil spills and stains shouldn't scare you off. But things should be organized, tidy, and as clean as possible. An organized working space indicates that the mechanic takes their work – and safety – seriously.
An automotive repair center is very detailed, and its facility needs to be neat, clean, and systematized. With that, it is a good indication that the staff takes pride in their work, and with that, you can be confident that you will receive quality service.
3. Good Customer Feedback And Reviews
Word of mouth is the best when it comes to mechanics. You might know friends and families with good recommendations for repair shops. You can also ask around since most high-quality mechanics leave a good impression in their community. Customer feedback and reviews can inform you about the quality of an automobile shop.
Since most repair shops have an online presence, you can check ratings and reviews online. Most people who leave reviews have had a good or bad experience; most satisfied people won't write reviews of their mechanics online.
It's best if you find a mechanic that has overwhelmingly positive reviews. Check if customers are satisfied with project turnaround times, expenses, and customer service.
4. Using OEM (Original Equipment Manufacturer) Parts
OEM parts are those made by the car's manufacturer – such as BMW, Audi, Toyota, etc. Most repair shops won't use OEM parts for basic repairs, such as brake pads or air filters. But for any severe maintenance and repairs, you need to make sure to request OEM parts.
Using OEM parts ensures the best possible results, and the factory warranty remains valid. You should ensure that your chosen shop uses OEM parts upon request, even if it costs extra.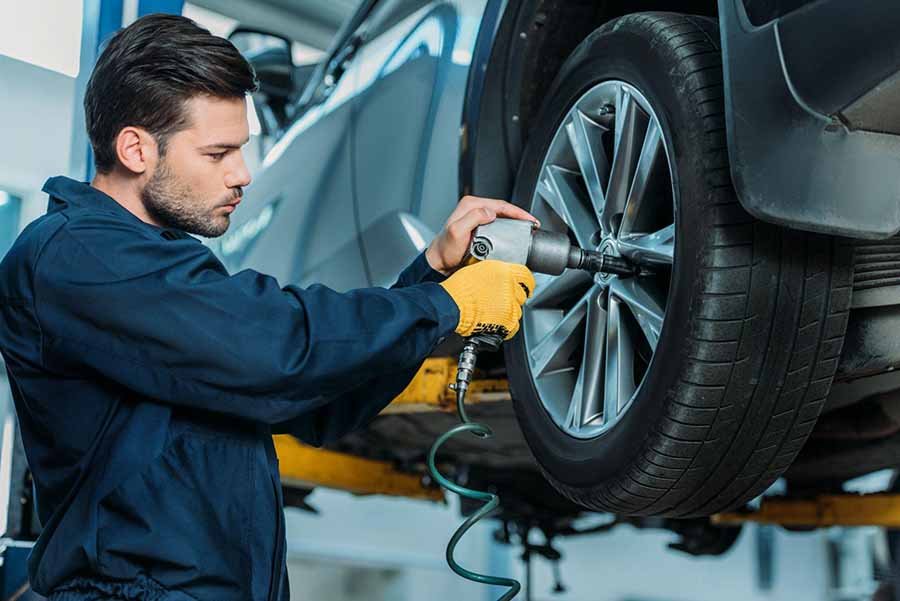 5. Canvass Pricing
Make sure to ask and understand their pricing and the services it includes. The shop is responsible for explaining the cost of what you are purchasing. Unfortunately, many shops are not as upfront and transparent with customers as they should be.
Some might charge you more than what you should pay for. Beware of market pricing; some mechanics may charge you more if you need to know. Be your advocate and make sure you understand exactly what is being done for what amount.
6. Ask About Warranties
Make sure to ask if the shop has a warranty and if it covers both parts and labor. Some shops are tricky with warranties and may have a short timeline or loopholes in their warranty offering.
7. Scheduling
A good repair shop handles its scheduling and project turnaround well. If your chosen mechanic or shop provides a specific timeline for when everything will be finished, it is a good indication of the overall professionalism of a shop.
Before the process begins, they should brief you with a clear timetable of when a technician will start on your vehicle. Moreso, an estimate on how long the repairs will take. Make sure the mechanic or shop provides clear communication about these things.
Conclusion
We hope all these tips give you a clear insight into the various factors to consider while looking for the ideal car servicing or maintenance center. You can check out Europe Services if you are looking for top-notch. They are your local provider of elite luxury car care.
Europe Services has a team of ASE-certified mechanics with a combined automobile experience of over 50 years, specifically in servicing luxury European vehicles for high-end clients. They provide stellar customer service,  precise diagnostics and repair, and superior results. Click here for more information.