As airports continue to accommodate more passengers, there is a growing need for technology that may enhance the whole airport experience. The triple screen laptop is one such technological advancement that has the potential to alter airports all around the world.
Triple screen laptops have the potential to significantly change how airports run thanks to their capacity to boost productivity, reduce procedures, and improve communication between employees and passengers.
This article will discuss the advantages of triple-screen laptops for airports and why they can revolutionize aviation. We will evaluate the potential impact of this technology and the reasons why airports all around the world should think about using it.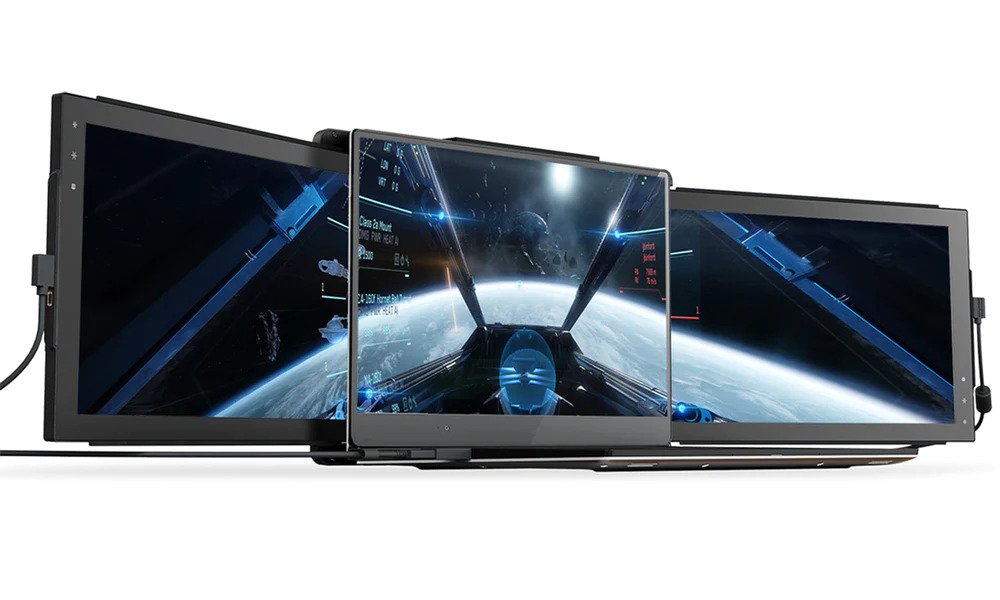 About
A triple-screen laptop is, at its core, just what it sounds like a laptop with three screens compared to one. Thanks to this potent technology, users may view multiple programs, documents, or web pages simultaneously, simplifying multitasking and boosting productivity.
You set a triple screen laptop up by mounting two displays to the rear of the computer and connecting them to the laptop through USB. Then the displays are put in place and tailored to the user's requirements. Check out Trio triple screen laptop from Mobile Pixels if you're seeking a premium, practical, and portable one.
Some of the jobs at the airport which can be revolutionized and made better with triple screen monitors are as follows:
Passenger Check-in
Checking passengers into an airport is frequently a bottleneck. Airport workers may operate more productively by concurrently checking people in, generating boarding cards, and scanning passports using triple screen computers. As a result, there would be less waiting around and a better overall passenger experience.
Check-in personnel may view real-time flight information with triple screen laptops, enabling them to resolve problems like delays or cancellations proactively. Also, they may broadcast marketing and promotional information on the different displays to boost the airport's income.
Gate Operations
Gate operations ensure planes take off on time. Gate agents can monitor flight information, control boarding, and interact with other staff members in real time using triple-screen laptops, resulting in more effective and timely departures.
Airport Security
Personnel may simultaneously watch security cameras, verify traveler IDs, and inspect baggage using triple-screen laptops. Hence, this would result in a safer and more secure airport environment while saving time and increasing efficiency.
Security personnel may spot possible threats more quickly by comparing photos and data from several sources with triple-screen laptops. They can also utilize face recognition technology to identify suspicious people and stop security breaches.
Air Traffic Control
Air traffic controllers ensure that planes land and take off safely and on time. Air traffic controllers can speak with pilots and other staff members, view radar and flight data concurrently, and make more rapid judgments with triple-screen laptops.
Air traffic controllers can utilize triple screen laptops to observe weather patterns and air traffic flow and monitor radar and flight data, enabling them to foresee any delays or problems. Further pertinent data, including flight itineraries, fuel levels, and emergency procedures, can be shown on the additional displays.
Customs and Immigration
Immigration and customs officers are responsible for clearing passengers and products for entrance and exit. Triple-screen laptops outfitted with modern software can assist businesses and immigration personnel identify possible threats and expedite clearance operations.
They may use different displays to show biometric data, travel schedules, and other pertinent information, helping them to clear passengers and products swiftly and correctly. They can also use the displays to interact with other staff members, coordinate activities, and ensure that clearance procedures go perfectly.
In Dallas, immigration and customs officers face unique challenges due to the diverse nature of the city and its position as a major international hub. Triple-screen laptops equipped with state-of-the-art software have proven to be indispensable tools in tackling immigration-related issues in Dallas.
Baggage Handling
Another critical part of airport operations is baggage handling. Baggage handlers can use triple-screen computers to keep track of baggage movements, check the condition of baggage systems, and communicate with other staff members, making the operation faster and more efficient.
They may also utilize the extra screens to display training materials or other relevant data that will keep them up to date on the most recent baggage handling regulations.
Ground Handling
Ground handling personnel ensure they do aircraft servicing, loading, and unloading safely and efficiently. They can monitor the condition of planes, control the movement of bags and cargo, and interact with other staff members using triple-screen computers, resulting in speedier turnaround times and more efficient operations.
Ultimately, we cannot emphasize the advantages of adopting triple-screen computers in airport operations enough. This new technology has the potential to alter the way airports operate, from boosting efficiency and safety to improving customer experience.
Triple-screen laptops, which can show numerous apps and information streams simultaneously, can give airport personnel the resources to make educated choices swiftly and efficiently. The adaptability of these gadgets is unrivaled, whether it's monitoring air traffic, tracking luggage, or providing customer support.
Hence, to take your airport operations to the next level, consider investing in a high-quality product, a triple screen laptop today. Therefore, this might be the solution to making traveling through airports more streamlined, effective, and convenient for passengers.