Ethiopian food is both a visual and gastronomic feast. Usually, it is delivered on a large plate covered in pleasant flatbread and crammed full of hearty stewed meats and beans that have been spiced with flavourful Ethiopian spices. You don't even need utensils for this flavourful and soothing cuisine, so you don't have to worry about the delivery person forgetting them.
Ethiopian food is one of the most underrated cuisines in the world, according to the Daily Meal. While it has established a strong foothold in major East African-populated urban centres like Washington and New York, it is still gaining ground elsewhere. You can reach Ethiopia by travelling on Ethiopian Airlines. Check out the most recent Ethiopian Airlines flight schedule online to find the best-suited flight for you.
Even though most Ethiopian dishes contain meat, there is a long-standing custom of forgoing animal products on certain days of the week. There are many delicious and nutritious vegan and vegetarian dishes available. Ethiopian food is therefore an ideal option to satisfy both offbeat eaters and people with dietary restrictions. Consequently, if your curiosity is piqued, keep reading for some popular Ethiopian delicacies to try.
Beyainatu
Since the name of Ethiopia's most well-known vegetarian dish translates to "a little of everything," your injera will be covered in a riot of colours and flavours when it arrives, including heaping plates of savoury and colourful curries, lentil stews, vegetables, potatoes, and more.
Beyainatu is commonly available and served almost everywhere in Ethiopia because of the country's long-standing culture of religious fasting as well as staying away from animal flesh on Wednesdays and Fridays. These establishments range from opulent hotels to small food shacks by the side of the road.
Injera
Eating traditional Ethiopian cuisine requires using your hands. The sour, spongy bread that is entirely compatible with the cuisine is called injera. The bread is naturally vegan and gluten-free and made with only teff flour, a tiny grain grown in East Africa for thousands of years. The assorted curries piled onto the flour are scooped with the injera.
Tibs
If you are interested in Ethiopian cuisine, you should try the country's rich and spicy stew. Using butter or oil, small beef cubes are sautéed before being boiled with chilli, onions, garlic, and rosemary. Naturally, it was always served on a bed of hot injera.
Doro Wat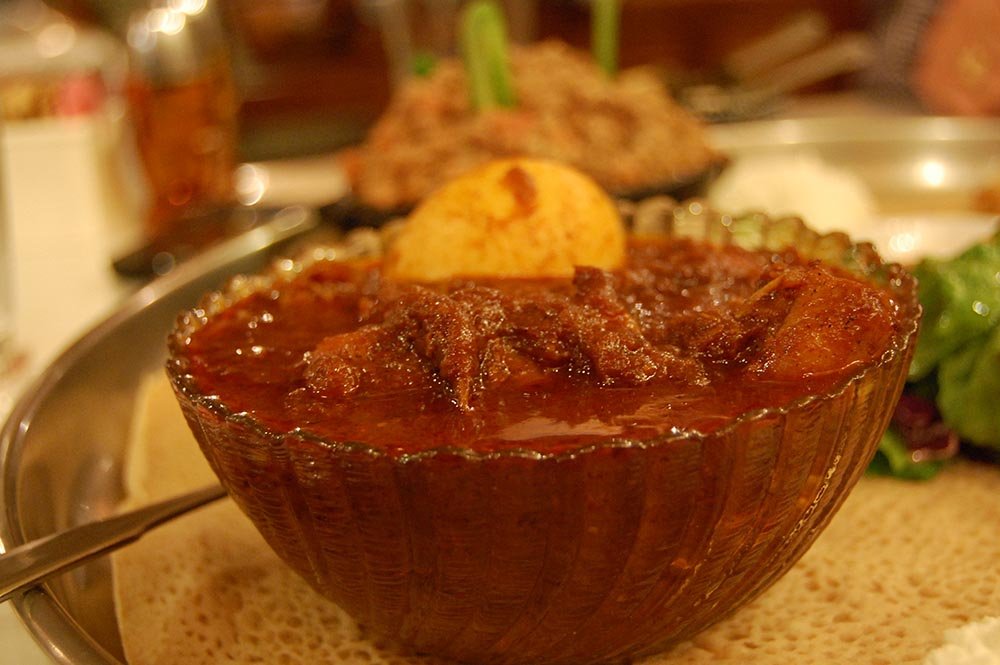 A crimson-coloured stew made with chicken thighs that have been simmered for hours in a spicy sauce made with berbere, additional ginger, garlic, diced onions, and butter is one of Ethiopia's famous dishes. Later, as the food is finished cooking, hard-boiled eggs are added. Collard greens, as well as salty cheese, are common sides to go with the tender meat, usually served with injera.
Kitfo
The average Ethiopian views kitfo prepared from the lightest meat as a special treat while praising its nutritional benefits. The meat is cut into chunks and warmed in a pan like French steak tartare, using some butter, mitmita, and occasionally thyme. Although you can request betam leb leb ("very warmed," which essentially means cooked), kitfo is usually served leb leb.
Spriss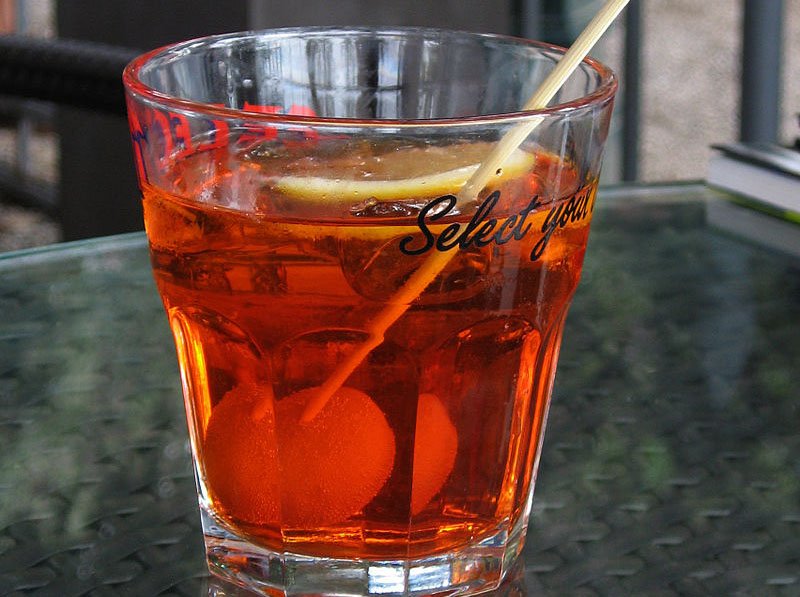 Juice from three different fruits is typically layered on top of one another to make a spritz. Pureed juice is the only ingredient; a lime is squeezed on top, and no water, sugar, or ice is added. Since it brings a satisfyingly sweet touch, some Ethiopians prefer to add a splash of purple cordial.
Enkulal firfir
Ethiopia's enkulal firfir shouldn't be missed at breakfast, even though it is essentially just scrambled eggs, and that may not sound all that exciting. With fresh, delectable bread rolls that are frequently still warm from the bakery, it is cooked with nitre kibe, an Ethiopian spiced butter that is further improved with a mixture of green and red peppers, chillies, tomatoes, and onions.
Enkulal firfir stands out for its fantastically bright yellow colour, which results in a taste that is far superior to what pale egg yolks produce in the West. Enkulal tibs is the name for the omelette variation. Be forewarned: After tasting enkulal firfir, your admiration of scrambled eggs at home will never be the same.
Middle Eastern travellers can benefit from Ethiopian airline's connectivity to travel to and from Tel Aviv, Dubai, Muscat, Kuwait, Dammam, Dubai, and Jeddah. It has Boeing 767, 777, and 787 aircraft in its fleet for long-haul passenger flights; Boeing 757 and 737 aircraft for medium-haul flights; and Q400 aircraft for domestic flights. Find the best deal using the Ethiopian Airlines flight schedule online and enjoy the best food in the country.